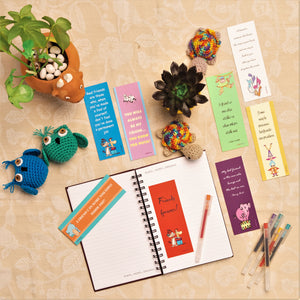 byFaith designz signature product compiled into a set of 8 bookmarks. The bookmarks are wonderful gifts for any age and work well not only as bookmarks, but also as cards with messages. Each bookmark is matt laminated for durability. The bookmarks are bright, colorful and have a messages on friendship.
Text on bookmarks :
1. A friend can make you smile inside out!
2. Real friends are those who, when you've made a fool of yourself, don't feel you've done a permanent job.
3. You will always be my friend...you know too much!
4. Friends forever!
5. My bets friend is the one who brings out the best in me. - Henry Ford
6. A friend is one who walks in when others walk out. - Walter Winchell 
7. A friend is someone who knows the song in your heart, and can sing it back to you when you have forgotten the words.
8. Gems may be precious. But friends are priceless.
Size of each bookmark : 5.5cms x 15cms